{"id":4658227544143,"title":"The BEST Travel Pillows For Kid's Neck Pillow with All-rounded Neck Support","handle":"the-best-travel-pillows-for-kids-neck-pillow-with-all-rounded-neck-support","description":"\u003ch3 style=\"text-align: center;\" data-mce-style=\"text-align: center;\"\u003e\u003cstrong\u003eThese are the best children's travel pillows you can buy!\u003c\/strong\u003e\u003c\/h3\u003e\n\u003cdiv style=\"text-align: start;\" data-mce-style=\"text-align: start;\"\u003e\u003cimg style=\"float: none; display: block; margin-left: auto; margin-right: auto;\" alt=\"\" src=\"https:\/\/cdn.shopify.cn\/s\/files\/1\/0251\/5809\/0831\/files\/Travel_Pillow.gif?v=1588232686\" data-mce-style=\"float: none; display: block; margin-left: auto; margin-right: auto;\"\u003e\u003c\/div\u003e\n\u003cp\u003e 1.Neck Car Pillow For Kids. \u003cbr\u003eThe last thing you want when traveling is an uncomfortable child. Sure, you already know to have snacks, books, electronic gadgets and toys to keep your kids fed and occupied. But did you pack a travel pillow for them? Being forced to keep their head in a position for too long, or falling asleep in cramped conditions, can lead to cranky and exhausted kids (and cranky parents). Whether you're traveling by car, bus, train or plane, these are the best travel neck pillow for child.\u003c\/p\u003e\n\u003cdiv style=\"text-align: start;\" data-mce-style=\"text-align: start;\"\u003e\u003cimg style=\"float: none; display: block; margin-left: auto; margin-right: auto;\" alt=\"\" src=\"https:\/\/cdn.shopify.cn\/s\/files\/1\/0251\/5809\/0831\/files\/4.4.jpg?v=1591598984\" data-mce-style=\"float: none; display: block; margin-left: auto; margin-right: auto;\"\u003e\u003c\/div\u003e\n\u003cp\u003e2. TripPal Pillow Junior\u003cbr\u003eThe TripPal Pillow kid-sized version, the TripPal Pillow Junior is just as popular, for good reason. The manufacturers worked with elementary and middle school students to design the pillow. So it's comfortable and sized just right for children ages 5 and up. Worn like a scarf, the TripPal Pillow Junior has hidden, flexible rib supports within foam cushioning. This ensures your child's head and neck are positioned correctly while she's sleeping, watching TV, playing video games or relaxing. Kids can wear the pillow to the front or either side. Also, this travel pillow is easy for kids to put on and take off and it weighs less than a pound (and packs flat for lightweight travel in a carry-on bag). Another benefit is that its material is super-soft and cozy for little travelers.\u003cbr\u003e\u003c\/p\u003e\n\u003cdiv style=\"text-align: start;\" data-mce-style=\"text-align: start;\"\u003e\u003cbr\u003e\u003c\/div\u003e\n\u003cdiv style=\"text-align: start;\" data-mce-style=\"text-align: start;\"\u003e\u003cimg style=\"float: none; display: block; margin-left: auto; margin-right: auto;\" alt=\"\" src=\"https:\/\/cdn.shopify.cn\/s\/files\/1\/0251\/5809\/0831\/files\/2_4b5b937f-f052-4d0f-9ab2-e60891129652.jpg?v=1588233587\" data-mce-style=\"float: none; display: block; margin-left: auto; margin-right: auto;\"\u003e\u003c\/div\u003e\n\u003cdiv style=\"text-align: start;\" data-mce-style=\"text-align: start;\"\u003e\u003cimg style=\"float: none; display: block; margin-left: auto; margin-right: auto;\" alt=\"\" src=\"https:\/\/cdn.shopify.cn\/s\/files\/1\/0251\/5809\/0831\/files\/1_c2453b59-07b6-4613-bb01-c1108fe921ac.jpg?v=1588233508\" data-mce-style=\"float: none; display: block; margin-left: auto; margin-right: auto;\"\u003e\u003c\/div\u003e\n\u003cdiv style=\"text-align: start;\" data-mce-style=\"text-align: start;\"\u003e\u003cimg style=\"float: none; display: block; margin-left: auto; margin-right: auto;\" alt=\"\" src=\"https:\/\/cdn.shopify.cn\/s\/files\/1\/0251\/5809\/0831\/files\/3_98f91bbc-aa39-48ef-839b-dd38b0d7c0bc.jpg?v=1588233605\" data-mce-style=\"float: none; display: block; margin-left: auto; margin-right: auto;\"\u003e\u003c\/div\u003e\n\u003cdiv style=\"text-align: start;\" data-mce-style=\"text-align: start;\"\u003e\n\u003cimg style=\"float: none; display: block; margin-left: auto; margin-right: auto;\" alt=\"\" src=\"https:\/\/cdn.shopify.cn\/s\/files\/1\/0251\/5809\/0831\/files\/4_72e9f555-142d-4613-a44e-8d62c2011a10.jpg?v=1588233628\" data-mce-style=\"float: none; display: block; margin-left: auto; margin-right: auto;\"\u003e\u003cimg style=\"float: none; display: block; margin-left: auto; margin-right: auto;\" alt=\"\" src=\"https:\/\/cdn.shopify.cn\/s\/files\/1\/0251\/5809\/0831\/files\/Travel_Pillow_10.jpg?v=1588233132\" data-mce-style=\"float: none; display: block; margin-left: auto; margin-right: auto;\"\u003e\u003cimg style=\"float: none; display: block; margin-left: auto; margin-right: auto;\" src=\"https:\/\/cdn.shopify.cn\/s\/files\/1\/0251\/5809\/0831\/files\/Travel_Pillow_5_1009e5f0-21e8-45ad-bd55-7b6c178f0a53.jpg?v=1588233109\" data-mce-style=\"float: none; display: block; margin-left: auto; margin-right: auto;\"\u003e\n\u003c\/div\u003e\n\u003cdiv style=\"text-align: start;\" data-mce-style=\"text-align: start;\"\u003e\u003cimg style=\"display: block; margin-left: auto; margin-right: auto;\" alt=\"\" src=\"https:\/\/cdn.shopify.cn\/s\/files\/1\/0251\/5809\/0831\/files\/4.1_8768c9a1-c0ab-4f73-9e23-1bc107632662.jpg?v=1591599442\" data-mce-style=\"display: block; margin-left: auto; margin-right: auto;\"\u003e\u003c\/div\u003e","published_at":"2020-06-01T23:07:38-07:00","created_at":"2020-06-02T01:15:30-07:00","vendor":"gloryhealthy","type":"Travel Pillow","tags":["Travel Pillow"],"price":4999,"price_min":4999,"price_max":4999,"available":true,"price_varies":false,"compare_at_price":null,"compare_at_price_min":0,"compare_at_price_max":0,"compare_at_price_varies":false,"variants":[{"id":32318094671951,"title":"S(Kid's)","option1":"S(Kid's)","option2":null,"option3":null,"sku":"S","requires_shipping":true,"taxable":false,"featured_image":{"id":15050586554447,"product_id":4658227544143,"position":2,"created_at":"2020-06-07T23:37:53-07:00","updated_at":"2021-02-11T08:33:52-08:00","alt":"The BEST Travel Pillows For Kid's Neck Pillow with All-rounded Neck Support - gloryhealthy","width":1000,"height":1000,"src":"https:\/\/cdn.shopify.com\/s\/files\/1\/0251\/5809\/0831\/products\/2_52e08adb-f4f3-4897-accc-58d971e38115.jpg?v=1613061232","variant_ids":[32318094671951]},"available":true,"name":"The BEST Travel Pillows For Kid's Neck Pillow with All-rounded Neck Support - S(Kid's)","public_title":"S(Kid's)","options":["S(Kid's)"],"price":4999,"weight":0,"compare_at_price":null,"inventory_management":"shopify","barcode":"","featured_media":{"alt":"The BEST Travel Pillows For Kid's Neck Pillow with All-rounded Neck Support - gloryhealthy","id":7223979442255,"position":2,"preview_image":{"aspect_ratio":1.0,"height":1000,"width":1000,"src":"https:\/\/cdn.shopify.com\/s\/files\/1\/0251\/5809\/0831\/products\/2_52e08adb-f4f3-4897-accc-58d971e38115.jpg?v=1613061232"}},"requires_selling_plan":false,"selling_plan_allocations":[]},{"id":32318094704719,"title":"M(Adult)","option1":"M(Adult)","option2":null,"option3":null,"sku":"M","requires_shipping":true,"taxable":false,"featured_image":{"id":15202235908175,"product_id":4658227544143,"position":9,"created_at":"2020-07-01T00:12:17-07:00","updated_at":"2021-02-11T08:33:53-08:00","alt":"The BEST Travel Pillows For Kid's Neck Pillow with All-rounded Neck Support - gloryhealthy","width":1000,"height":1000,"src":"https:\/\/cdn.shopify.com\/s\/files\/1\/0251\/5809\/0831\/products\/06194836b9c58fa0f52d86a3600fc1d3_cba072b0-343e-428f-98fd-4383fa37929d.jpg?v=1613061233","variant_ids":[32318094704719]},"available":false,"name":"The BEST Travel Pillows For Kid's Neck Pillow with All-rounded Neck Support - M(Adult)","public_title":"M(Adult)","options":["M(Adult)"],"price":4999,"weight":0,"compare_at_price":null,"inventory_management":"shopify","barcode":"","featured_media":{"alt":"The BEST Travel Pillows For Kid's Neck Pillow with All-rounded Neck Support - gloryhealthy","id":7375721496655,"position":9,"preview_image":{"aspect_ratio":1.0,"height":1000,"width":1000,"src":"https:\/\/cdn.shopify.com\/s\/files\/1\/0251\/5809\/0831\/products\/06194836b9c58fa0f52d86a3600fc1d3_cba072b0-343e-428f-98fd-4383fa37929d.jpg?v=1613061233"}},"requires_selling_plan":false,"selling_plan_allocations":[]},{"id":32318094737487,"title":"L(Adult Plus Size)","option1":"L(Adult Plus Size)","option2":null,"option3":null,"sku":"L","requires_shipping":true,"taxable":false,"featured_image":{"id":15050609393743,"product_id":4658227544143,"position":7,"created_at":"2020-06-07T23:43:29-07:00","updated_at":"2021-02-11T08:33:53-08:00","alt":"The BEST Travel Pillows For Kid's Neck Pillow with All-rounded Neck Support - gloryhealthy","width":1000,"height":1000,"src":"https:\/\/cdn.shopify.com\/s\/files\/1\/0251\/5809\/0831\/products\/1_4f452463-e456-41a4-9cbe-ae78012584ca.jpg?v=1613061233","variant_ids":[32318094737487]},"available":false,"name":"The BEST Travel Pillows For Kid's Neck Pillow with All-rounded Neck Support - L(Adult Plus Size)","public_title":"L(Adult Plus Size)","options":["L(Adult Plus Size)"],"price":4999,"weight":0,"compare_at_price":null,"inventory_management":"shopify","barcode":"","featured_media":{"alt":"The BEST Travel Pillows For Kid's Neck Pillow with All-rounded Neck Support - gloryhealthy","id":7224002281551,"position":7,"preview_image":{"aspect_ratio":1.0,"height":1000,"width":1000,"src":"https:\/\/cdn.shopify.com\/s\/files\/1\/0251\/5809\/0831\/products\/1_4f452463-e456-41a4-9cbe-ae78012584ca.jpg?v=1613061233"}},"requires_selling_plan":false,"selling_plan_allocations":[]}],"images":["\/\/cdn.shopify.com\/s\/files\/1\/0251\/5809\/0831\/products\/4_4c999e9f-adce-4cc0-9baf-0eb71b9fbdf8.jpg?v=1613061232","\/\/cdn.shopify.com\/s\/files\/1\/0251\/5809\/0831\/products\/2_52e08adb-f4f3-4897-accc-58d971e38115.jpg?v=1613061232","\/\/cdn.shopify.com\/s\/files\/1\/0251\/5809\/0831\/products\/neckpillow.jpg?v=1613061232","\/\/cdn.shopify.com\/s\/files\/1\/0251\/5809\/0831\/products\/2_ceabd50b-2dc6-46e2-8639-d9090fd89ebf.jpg?v=1613061232","\/\/cdn.shopify.com\/s\/files\/1\/0251\/5809\/0831\/products\/5_2084c0aa-c0ee-4856-bfec-6ef4a122712d.jpg?v=1613061232","\/\/cdn.shopify.com\/s\/files\/1\/0251\/5809\/0831\/products\/06194836b9c58fa0f52d86a3600fc1d3_eb62bc36-bf76-4ada-9508-5a9bd4c752f1.jpg?v=1613061232","\/\/cdn.shopify.com\/s\/files\/1\/0251\/5809\/0831\/products\/1_4f452463-e456-41a4-9cbe-ae78012584ca.jpg?v=1613061233","\/\/cdn.shopify.com\/s\/files\/1\/0251\/5809\/0831\/products\/3_edb5e740-60ef-4482-9b96-1ed22eb06ca4.jpg?v=1613061233","\/\/cdn.shopify.com\/s\/files\/1\/0251\/5809\/0831\/products\/06194836b9c58fa0f52d86a3600fc1d3_cba072b0-343e-428f-98fd-4383fa37929d.jpg?v=1613061233"],"featured_image":"\/\/cdn.shopify.com\/s\/files\/1\/0251\/5809\/0831\/products\/4_4c999e9f-adce-4cc0-9baf-0eb71b9fbdf8.jpg?v=1613061232","options":["大小"],"media":[{"alt":"The BEST Travel Pillows For Kid's Neck Pillow with All-rounded Neck Support - gloryhealthy","id":7223979704399,"position":1,"preview_image":{"aspect_ratio":1.0,"height":1000,"width":1000,"src":"https:\/\/cdn.shopify.com\/s\/files\/1\/0251\/5809\/0831\/products\/4_4c999e9f-adce-4cc0-9baf-0eb71b9fbdf8.jpg?v=1613061232"},"aspect_ratio":1.0,"height":1000,"media_type":"image","src":"https:\/\/cdn.shopify.com\/s\/files\/1\/0251\/5809\/0831\/products\/4_4c999e9f-adce-4cc0-9baf-0eb71b9fbdf8.jpg?v=1613061232","width":1000},{"alt":"The BEST Travel Pillows For Kid's Neck Pillow with All-rounded Neck Support - gloryhealthy","id":7223979442255,"position":2,"preview_image":{"aspect_ratio":1.0,"height":1000,"width":1000,"src":"https:\/\/cdn.shopify.com\/s\/files\/1\/0251\/5809\/0831\/products\/2_52e08adb-f4f3-4897-accc-58d971e38115.jpg?v=1613061232"},"aspect_ratio":1.0,"height":1000,"media_type":"image","src":"https:\/\/cdn.shopify.com\/s\/files\/1\/0251\/5809\/0831\/products\/2_52e08adb-f4f3-4897-accc-58d971e38115.jpg?v=1613061232","width":1000},{"alt":"The BEST Travel Pillows For Kid's Neck Pillow with All-rounded Neck Support - gloryhealthy","id":7223978786895,"position":3,"preview_image":{"aspect_ratio":1.0,"height":1000,"width":1000,"src":"https:\/\/cdn.shopify.com\/s\/files\/1\/0251\/5809\/0831\/products\/neckpillow.jpg?v=1613061232"},"aspect_ratio":1.0,"height":1000,"media_type":"image","src":"https:\/\/cdn.shopify.com\/s\/files\/1\/0251\/5809\/0831\/products\/neckpillow.jpg?v=1613061232","width":1000},{"alt":"The BEST Travel Pillows For Kid's Neck Pillow with All-rounded Neck Support - gloryhealthy","id":7223980687439,"position":4,"preview_image":{"aspect_ratio":1.0,"height":1000,"width":1000,"src":"https:\/\/cdn.shopify.com\/s\/files\/1\/0251\/5809\/0831\/products\/2_ceabd50b-2dc6-46e2-8639-d9090fd89ebf.jpg?v=1613061232"},"aspect_ratio":1.0,"height":1000,"media_type":"image","src":"https:\/\/cdn.shopify.com\/s\/files\/1\/0251\/5809\/0831\/products\/2_ceabd50b-2dc6-46e2-8639-d9090fd89ebf.jpg?v=1613061232","width":1000},{"alt":"The BEST Travel Pillows For Kid's Neck Pillow with All-rounded Neck Support - gloryhealthy","id":7224000020559,"position":5,"preview_image":{"aspect_ratio":1.0,"height":1000,"width":1000,"src":"https:\/\/cdn.shopify.com\/s\/files\/1\/0251\/5809\/0831\/products\/5_2084c0aa-c0ee-4856-bfec-6ef4a122712d.jpg?v=1613061232"},"aspect_ratio":1.0,"height":1000,"media_type":"image","src":"https:\/\/cdn.shopify.com\/s\/files\/1\/0251\/5809\/0831\/products\/5_2084c0aa-c0ee-4856-bfec-6ef4a122712d.jpg?v=1613061232","width":1000},{"alt":"The BEST Travel Pillows For Kid's Neck Pillow with All-rounded Neck Support - gloryhealthy","id":7375722250319,"position":6,"preview_image":{"aspect_ratio":1.0,"height":1000,"width":1000,"src":"https:\/\/cdn.shopify.com\/s\/files\/1\/0251\/5809\/0831\/products\/06194836b9c58fa0f52d86a3600fc1d3_eb62bc36-bf76-4ada-9508-5a9bd4c752f1.jpg?v=1613061232"},"aspect_ratio":1.0,"height":1000,"media_type":"image","src":"https:\/\/cdn.shopify.com\/s\/files\/1\/0251\/5809\/0831\/products\/06194836b9c58fa0f52d86a3600fc1d3_eb62bc36-bf76-4ada-9508-5a9bd4c752f1.jpg?v=1613061232","width":1000},{"alt":"The BEST Travel Pillows For Kid's Neck Pillow with All-rounded Neck Support - gloryhealthy","id":7224002281551,"position":7,"preview_image":{"aspect_ratio":1.0,"height":1000,"width":1000,"src":"https:\/\/cdn.shopify.com\/s\/files\/1\/0251\/5809\/0831\/products\/1_4f452463-e456-41a4-9cbe-ae78012584ca.jpg?v=1613061233"},"aspect_ratio":1.0,"height":1000,"media_type":"image","src":"https:\/\/cdn.shopify.com\/s\/files\/1\/0251\/5809\/0831\/products\/1_4f452463-e456-41a4-9cbe-ae78012584ca.jpg?v=1613061233","width":1000},{"alt":"The BEST Travel Pillows For Kid's Neck Pillow with All-rounded Neck Support - gloryhealthy","id":7223980851279,"position":8,"preview_image":{"aspect_ratio":1.0,"height":1000,"width":1000,"src":"https:\/\/cdn.shopify.com\/s\/files\/1\/0251\/5809\/0831\/products\/3_edb5e740-60ef-4482-9b96-1ed22eb06ca4.jpg?v=1613061233"},"aspect_ratio":1.0,"height":1000,"media_type":"image","src":"https:\/\/cdn.shopify.com\/s\/files\/1\/0251\/5809\/0831\/products\/3_edb5e740-60ef-4482-9b96-1ed22eb06ca4.jpg?v=1613061233","width":1000},{"alt":"The BEST Travel Pillows For Kid's Neck Pillow with All-rounded Neck Support - gloryhealthy","id":7375721496655,"position":9,"preview_image":{"aspect_ratio":1.0,"height":1000,"width":1000,"src":"https:\/\/cdn.shopify.com\/s\/files\/1\/0251\/5809\/0831\/products\/06194836b9c58fa0f52d86a3600fc1d3_cba072b0-343e-428f-98fd-4383fa37929d.jpg?v=1613061233"},"aspect_ratio":1.0,"height":1000,"media_type":"image","src":"https:\/\/cdn.shopify.com\/s\/files\/1\/0251\/5809\/0831\/products\/06194836b9c58fa0f52d86a3600fc1d3_cba072b0-343e-428f-98fd-4383fa37929d.jpg?v=1613061233","width":1000}],"requires_selling_plan":false,"selling_plan_groups":[],"content":"\u003ch3 style=\"text-align: center;\" data-mce-style=\"text-align: center;\"\u003e\u003cstrong\u003eThese are the best children's travel pillows you can buy!\u003c\/strong\u003e\u003c\/h3\u003e\n\u003cdiv style=\"text-align: start;\" data-mce-style=\"text-align: start;\"\u003e\u003cimg style=\"float: none; display: block; margin-left: auto; margin-right: auto;\" alt=\"\" src=\"https:\/\/cdn.shopify.cn\/s\/files\/1\/0251\/5809\/0831\/files\/Travel_Pillow.gif?v=1588232686\" data-mce-style=\"float: none; display: block; margin-left: auto; margin-right: auto;\"\u003e\u003c\/div\u003e\n\u003cp\u003e 1.Neck Car Pillow For Kids. \u003cbr\u003eThe last thing you want when traveling is an uncomfortable child. Sure, you already know to have snacks, books, electronic gadgets and toys to keep your kids fed and occupied. But did you pack a travel pillow for them? Being forced to keep their head in a position for too long, or falling asleep in cramped conditions, can lead to cranky and exhausted kids (and cranky parents). Whether you're traveling by car, bus, train or plane, these are the best travel neck pillow for child.\u003c\/p\u003e\n\u003cdiv style=\"text-align: start;\" data-mce-style=\"text-align: start;\"\u003e\u003cimg style=\"float: none; display: block; margin-left: auto; margin-right: auto;\" alt=\"\" src=\"https:\/\/cdn.shopify.cn\/s\/files\/1\/0251\/5809\/0831\/files\/4.4.jpg?v=1591598984\" data-mce-style=\"float: none; display: block; margin-left: auto; margin-right: auto;\"\u003e\u003c\/div\u003e\n\u003cp\u003e2. TripPal Pillow Junior\u003cbr\u003eThe TripPal Pillow kid-sized version, the TripPal Pillow Junior is just as popular, for good reason. The manufacturers worked with elementary and middle school students to design the pillow. So it's comfortable and sized just right for children ages 5 and up. Worn like a scarf, the TripPal Pillow Junior has hidden, flexible rib supports within foam cushioning. This ensures your child's head and neck are positioned correctly while she's sleeping, watching TV, playing video games or relaxing. Kids can wear the pillow to the front or either side. Also, this travel pillow is easy for kids to put on and take off and it weighs less than a pound (and packs flat for lightweight travel in a carry-on bag). Another benefit is that its material is super-soft and cozy for little travelers.\u003cbr\u003e\u003c\/p\u003e\n\u003cdiv style=\"text-align: start;\" data-mce-style=\"text-align: start;\"\u003e\u003cbr\u003e\u003c\/div\u003e\n\u003cdiv style=\"text-align: start;\" data-mce-style=\"text-align: start;\"\u003e\u003cimg style=\"float: none; display: block; margin-left: auto; margin-right: auto;\" alt=\"\" src=\"https:\/\/cdn.shopify.cn\/s\/files\/1\/0251\/5809\/0831\/files\/2_4b5b937f-f052-4d0f-9ab2-e60891129652.jpg?v=1588233587\" data-mce-style=\"float: none; display: block; margin-left: auto; margin-right: auto;\"\u003e\u003c\/div\u003e\n\u003cdiv style=\"text-align: start;\" data-mce-style=\"text-align: start;\"\u003e\u003cimg style=\"float: none; display: block; margin-left: auto; margin-right: auto;\" alt=\"\" src=\"https:\/\/cdn.shopify.cn\/s\/files\/1\/0251\/5809\/0831\/files\/1_c2453b59-07b6-4613-bb01-c1108fe921ac.jpg?v=1588233508\" data-mce-style=\"float: none; display: block; margin-left: auto; margin-right: auto;\"\u003e\u003c\/div\u003e\n\u003cdiv style=\"text-align: start;\" data-mce-style=\"text-align: start;\"\u003e\u003cimg style=\"float: none; display: block; margin-left: auto; margin-right: auto;\" alt=\"\" src=\"https:\/\/cdn.shopify.cn\/s\/files\/1\/0251\/5809\/0831\/files\/3_98f91bbc-aa39-48ef-839b-dd38b0d7c0bc.jpg?v=1588233605\" data-mce-style=\"float: none; display: block; margin-left: auto; margin-right: auto;\"\u003e\u003c\/div\u003e\n\u003cdiv style=\"text-align: start;\" data-mce-style=\"text-align: start;\"\u003e\n\u003cimg style=\"float: none; display: block; margin-left: auto; margin-right: auto;\" alt=\"\" src=\"https:\/\/cdn.shopify.cn\/s\/files\/1\/0251\/5809\/0831\/files\/4_72e9f555-142d-4613-a44e-8d62c2011a10.jpg?v=1588233628\" data-mce-style=\"float: none; display: block; margin-left: auto; margin-right: auto;\"\u003e\u003cimg style=\"float: none; display: block; margin-left: auto; margin-right: auto;\" alt=\"\" src=\"https:\/\/cdn.shopify.cn\/s\/files\/1\/0251\/5809\/0831\/files\/Travel_Pillow_10.jpg?v=1588233132\" data-mce-style=\"float: none; display: block; margin-left: auto; margin-right: auto;\"\u003e\u003cimg style=\"float: none; display: block; margin-left: auto; margin-right: auto;\" src=\"https:\/\/cdn.shopify.cn\/s\/files\/1\/0251\/5809\/0831\/files\/Travel_Pillow_5_1009e5f0-21e8-45ad-bd55-7b6c178f0a53.jpg?v=1588233109\" data-mce-style=\"float: none; display: block; margin-left: auto; margin-right: auto;\"\u003e\n\u003c\/div\u003e\n\u003cdiv style=\"text-align: start;\" data-mce-style=\"text-align: start;\"\u003e\u003cimg style=\"display: block; margin-left: auto; margin-right: auto;\" alt=\"\" src=\"https:\/\/cdn.shopify.cn\/s\/files\/1\/0251\/5809\/0831\/files\/4.1_8768c9a1-c0ab-4f73-9e23-1bc107632662.jpg?v=1591599442\" data-mce-style=\"display: block; margin-left: auto; margin-right: auto;\"\u003e\u003c\/div\u003e"}
The BEST Travel Pillows For Kid's Neck Pillow with All-rounded Neck Support
The BEST Travel Pillows For Kid's Neck Pillow with All-rounded Neck Support
These are the best children's travel pillows you can buy!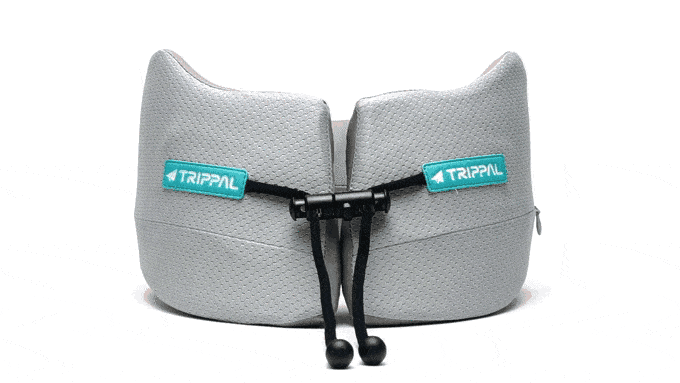 1.Neck Car Pillow For Kids.
The last thing you want when traveling is an uncomfortable child. Sure, you already know to have snacks, books, electronic gadgets and toys to keep your kids fed and occupied. But did you pack a travel pillow for them? Being forced to keep their head in a position for too long, or falling asleep in cramped conditions, can lead to cranky and exhausted kids (and cranky parents). Whether you're traveling by car, bus, train or plane, these are the best travel neck pillow for child.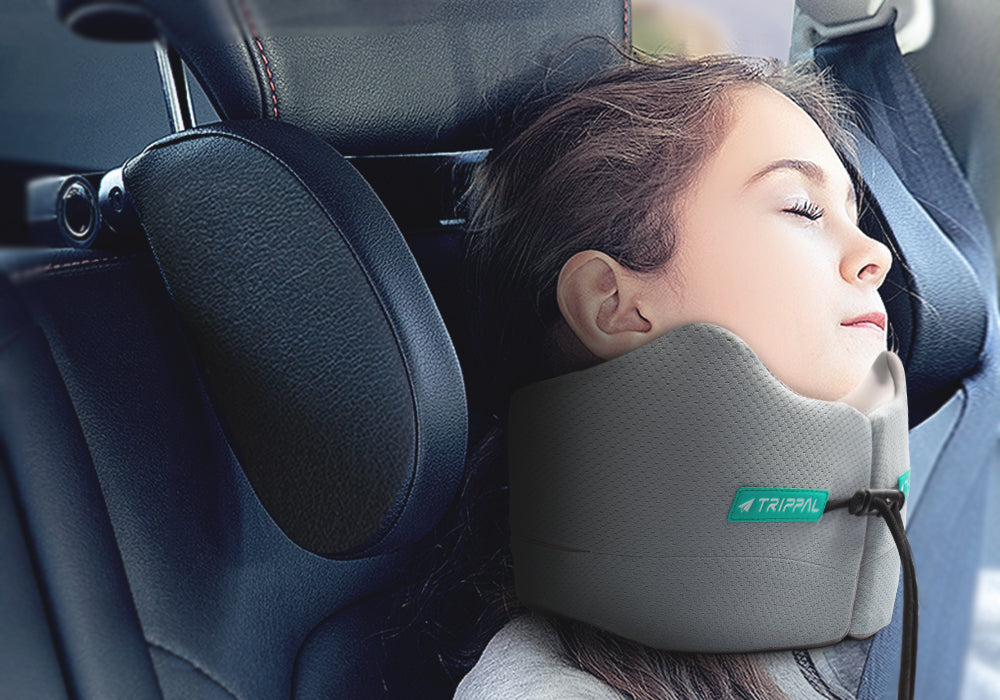 2. TripPal Pillow Junior
The TripPal Pillow kid-sized version, the TripPal Pillow Junior is just as popular, for good reason. The manufacturers worked with elementary and middle school students to design the pillow. So it's comfortable and sized just right for children ages 5 and up. Worn like a scarf, the TripPal Pillow Junior has hidden, flexible rib supports within foam cushioning. This ensures your child's head and neck are positioned correctly while she's sleeping, watching TV, playing video games or relaxing. Kids can wear the pillow to the front or either side. Also, this travel pillow is easy for kids to put on and take off and it weighs less than a pound (and packs flat for lightweight travel in a carry-on bag). Another benefit is that its material is super-soft and cozy for little travelers.